We did a page speed tests of a popular corporate websites. Here is what we got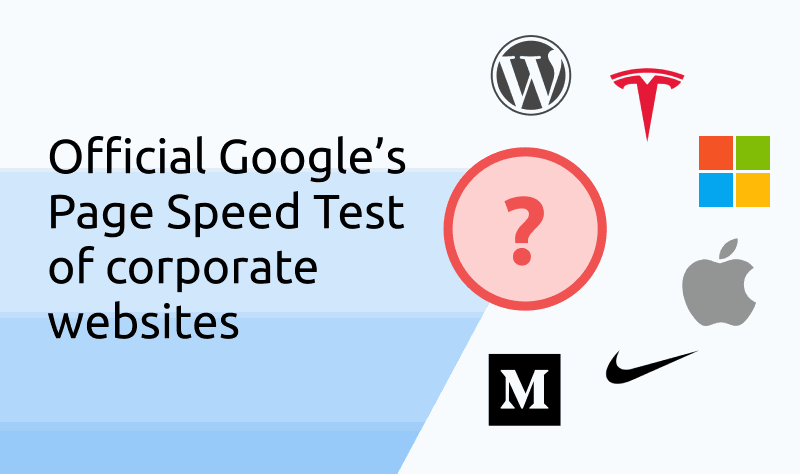 Check out unexpected results of an official Google's page speed measurement tool applied to big companies' websites after a month of Core Web Vital update got rolled out!
Google's Core Web Vitals update was rolled out in the first half of this summer and made more noise than any update Google ever did. The website quality is a thing which we all have been talking about, but no one had strict guidelines to measure it. And after years of developing their Lighthouse and PageSpeed Insights tools, the search engine giant started to collect and even expose to website owners (via Google Search Console) the data about pages load performance
As it turned out, after the first tests which we did even before the core update was rolled out, most of the websites, even owned by very rich companies had values very far away from good grades. And at that moment we were able to easily explain it: there is no big motivation for companies to drop all their business and urgently go to play by rules of their economical competitor.
Moreover, if a brand is popular enough, users will wait extra seconds of website load time without leaving it even just because of the idea "there can't be anything wrong with such a big company website, my network/device is just slow". Another point is that development teams will probably explain to their SEO managers that they have cool attractive animations or high-quality images which "can't load fast" so for some time there might be no progress with improvements. But how changed the performance today at the end of July?
Wordpress.com
The CMS platform that powers probably the largest amount of blogs on the internet gets smooth good value on their landing page: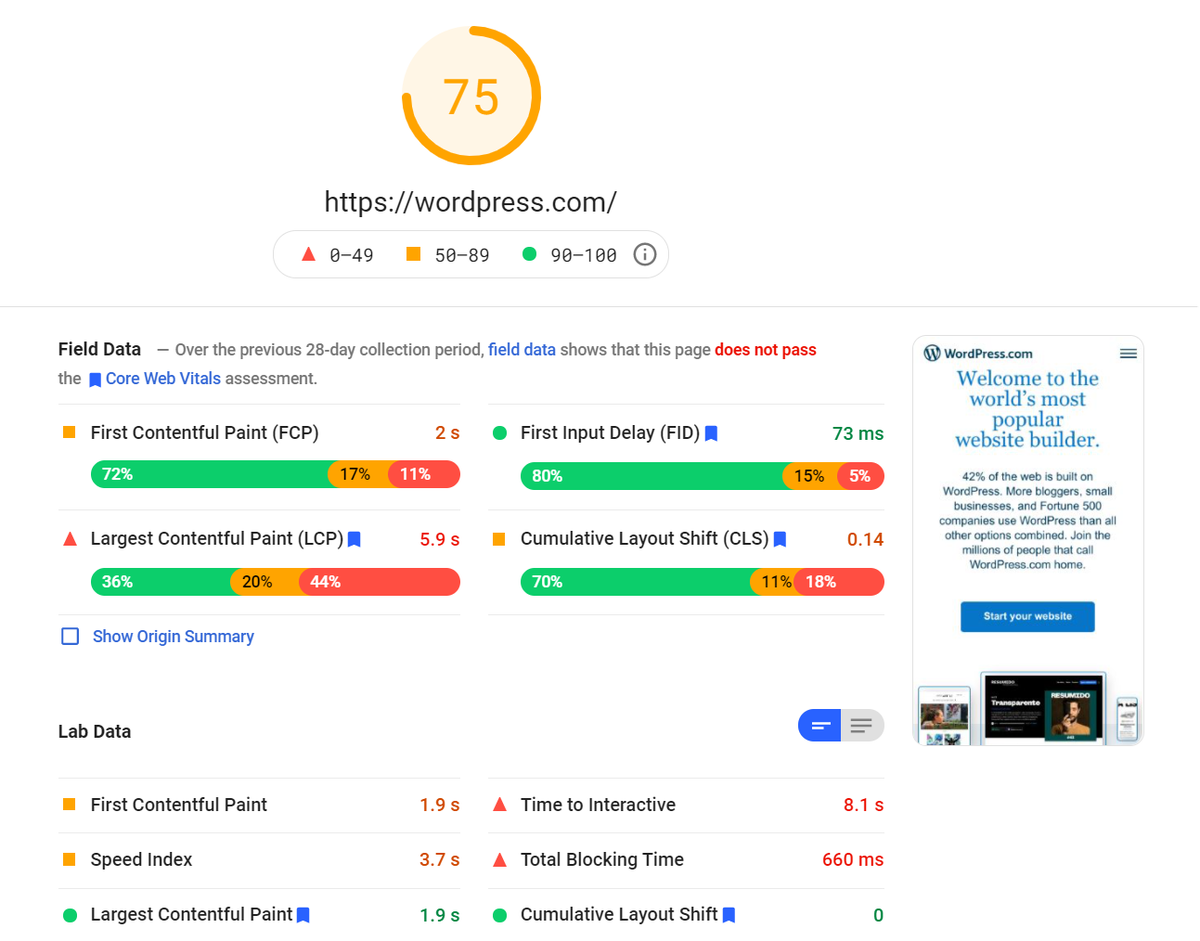 Which is pretty good image for their CMS. We also tested several fresh installations on free themes and they give same value on average which is not worst thing for such popular free software.
Medium.com
A lot of companies prefer to keep their blog under medium.com. Medium allows you to get your posts shown on their domain or host the entire blog on yours domain. Let's select one random post from their landing page:
https://medium.com/france/travail-en-entreprise-comprendre-les-r%C3%A8gles-du-jeu-598ad9df7eed
And benchmark it: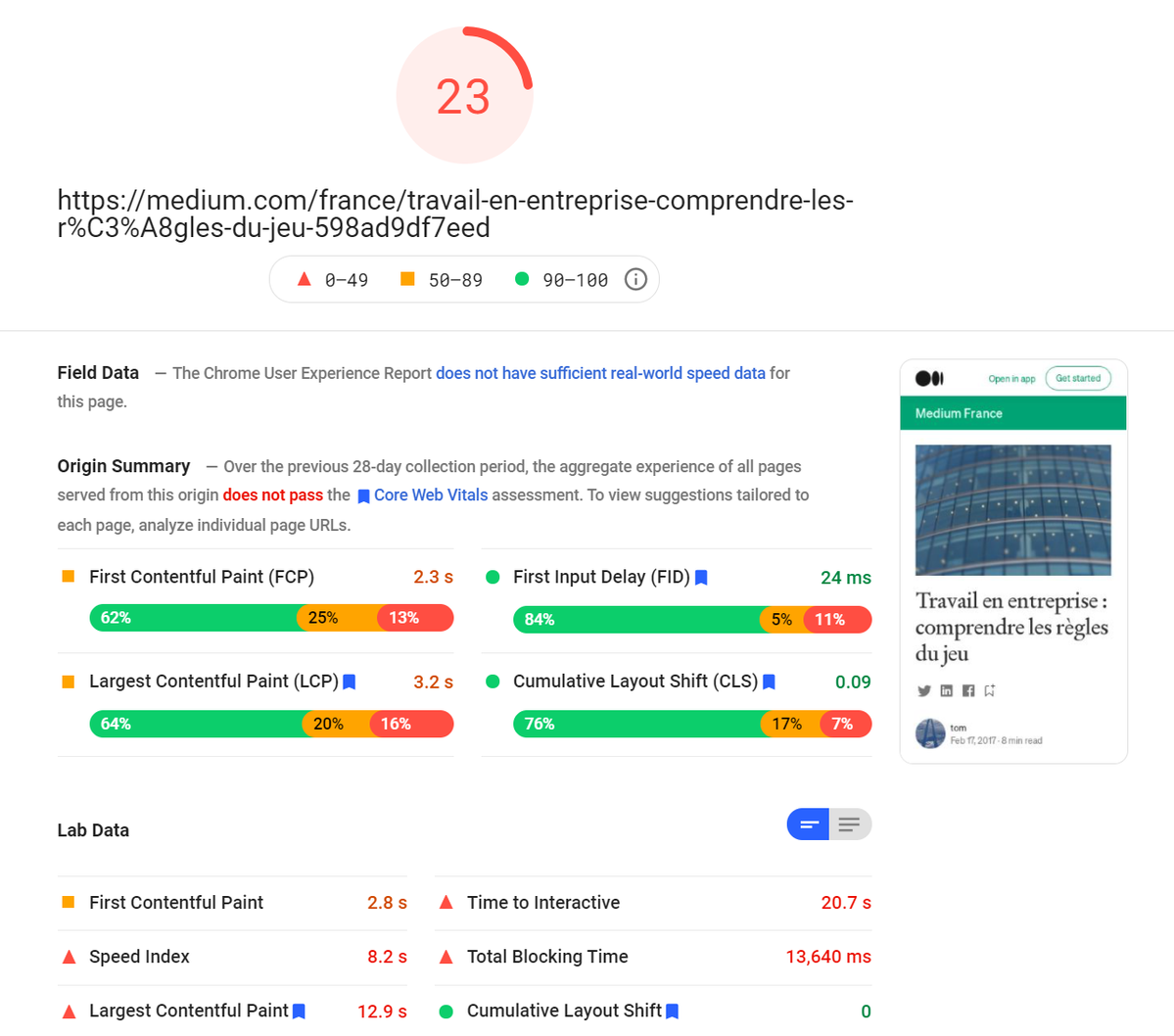 This result looks very unexpected to us because in theory one of the main use cases for medium users is hosting blogs. So having such low points might end in clients and revenue loss. And page speed optimization should not be rocket science for a company that has being is plotting text and images over a background from the beginning.
Apple.com
A company that creates hardware and software widely used in the whole world should be able to create a fast website, right? But by the version of Google PageSpeed Insights it is: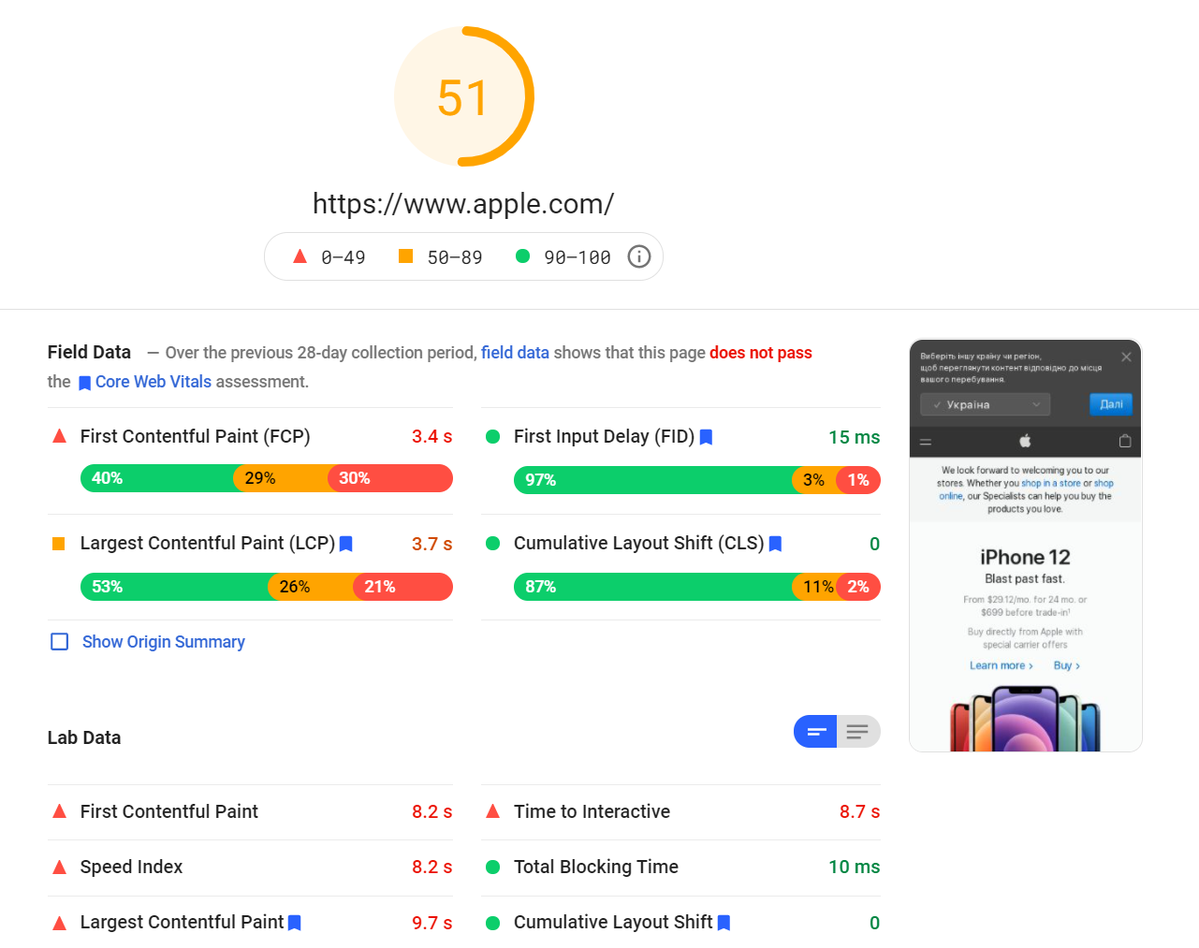 Microsoft.com
Maybe the creator of famous Windows Operation System can build a faster website?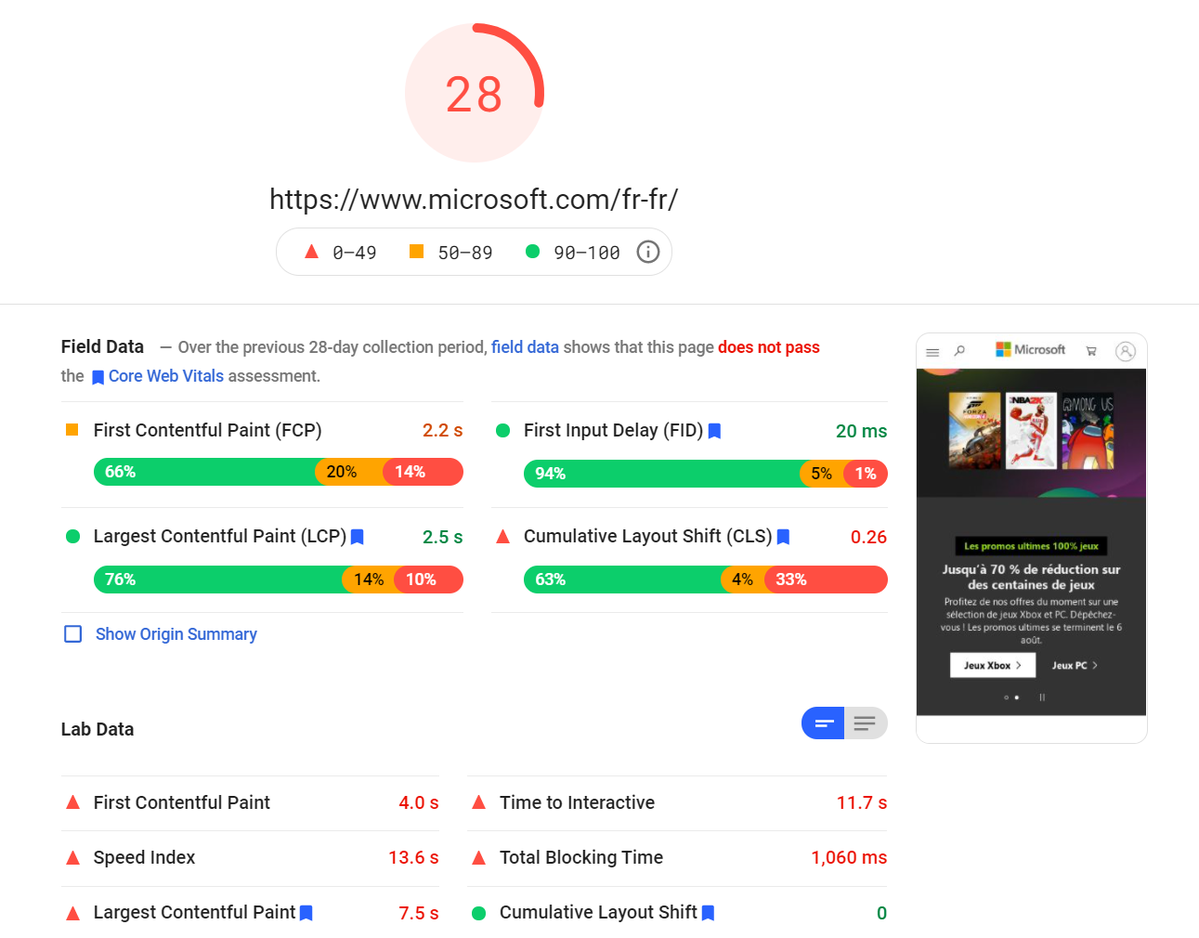 Never mind.
Tesla.com
How fast do you think is website of the company which makes super fast electro cars?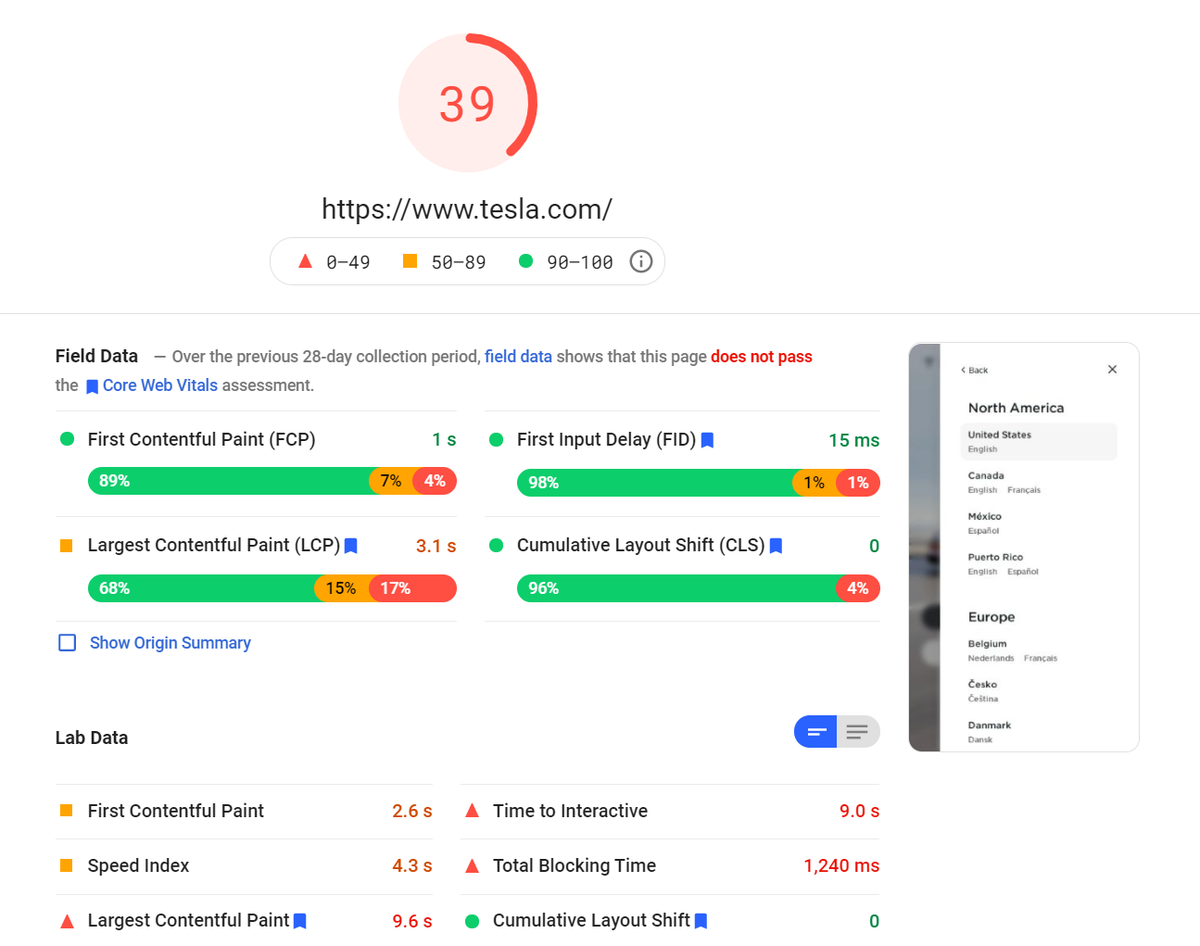 Well, at least they could say that Model S makes 60 mph faster than First Contentful Paint happens on their website.
Nike.com
Eliud Kipchoge, who broke the men's marathon record two years ago, as well as Geoffrey Kamworor and Brigid Kosgei, are all Nike-sponsored runners. A lot of experts think that Nike shoes allowed them to improve their speed. But how fast will be Nike's main website?
Probably they need Just Do It with their Core Web Vital Metrics and just improve it.
Conclusion
All measurements were done today using PageSpeed Insights tool. Under no circumstances we would want to blame the tested website developers for a low competence. Before creating FastDivs we spent a lot of time in the area of consulting companies for optimizing Core Web Vital metrics on their websites so we know how hard could it be for legacy websites. Also, even a small value on a mobile device does not mean that site is bad, content and other values are still more important factors for every buisness. We should remember that the idea of all Core Web Vitals is to make the site comfortably accessible in average environmental conditions like mobile networks or slow devices.
Anyway as we can state from our clients, Good Web Vitals already do a positive impact on rankings, but the fact that Google makes its own game rules might be pretty unpleasant for large corporations, which plans might not include urgent adjustments for all features released by search engine brother. 
Hope you were enjoyed reading our first post. In the future, we are going to show a super clear examples of how to analyze and improve Core Web Vital values for any website. If you want to stay updated subscribe to us on Facebook or Twitter